The Oregon Volcanoes are a north to south oriented line of high volcanic peaks most resembling large domes which offer a huge variety of routes from a nice hike to a serious alpine ice climbing adventure. Described below are the major volcanoes in Oregon and a brief description of each one. There are dozens of volcanoes in this chain so this list is by no means exhaustive.
At 50 miles east of Portland, Oregon's largest city, Mount Hood stands proudly at 11,239 feet and is the highest peak in the state. This is one of the most ascended peaks in the country and makes for an awesome alpine playground. In winter, a large ski area operates on the south side of the mountain above the Timberline Lodge and cross country skiers flank the mountain on every nice day. In summer aspiring mountaineers make the trek to the summit on a variety of routes. The standard

south route

is mainly a simple hike up gentle snow with a spicy finish on a hogsback just before the summit. The

North Face

and

Leuthold Couloir

routes make for awesome steep snow and ice climbs. Another good steep snow route with an easier flavor is the

Cooper Spur

however this route is exposed and therefore this is the deadliest route on the mountain.

Mount Hood last erupted in 1907 and there are still many venting

fumaroles, however it is regarded to be a dormant volcano at the moment. Although this mountain is considerable shorter than Rainier or Shasta and the trip to the summit is somewhat easier, do not underestimate it. Bad weather has caught too many unprepared parties and caused numerous accidents that could have been avoided. Approach Mount Hood the same as you would Mount Rainier!
The next peak south of Mount Hood is the 10,497 foot Mount Jefferson coming in at the second highest peak in Oregon. Although this peak is shorter is has a more alpine feel to it as there is some 4th class rock scrambling at the top no matter which route you take. Actually this summit scramble can be ice encrusted in fall or very loose rock so protecting it can be difficult. The

Jefferson Park Glacier

route is a classic and makes an awesome overall climb that ascends moderate to steep snow and finishes the summit pinnacle on low 5th class loose rock. Mount Jefferson is generally regarded to be extinct with the last estimated eruption about 40,000 years ago. Therefore, you don't have to worry about it erupting while you climb it!
Three Fingered Jack is a shorter peak rising at 7,841 feet and is one of the oldest volcanic peaks in the Cascade Range. Located between Mount Jefferson and the Three Sisters, the peak has a rugged look to it but the rock is incredibly terrible. This is a popular peak to climb but the

South Ridge

is the only really enjoyable route. The summit pinnacle does have some low 5th class climbing and there is a magic chimney/crack where the rock is slightly better and will accept protection. The climb only rises 3000 feet so it can be done in an easy day.
Powered by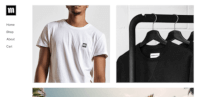 Create your own unique website with customizable templates.